Article No. 300106
MB FL 2K
3 in 1 composite waterproofing Combines the functions of waterproofing, tile cement and grout in one material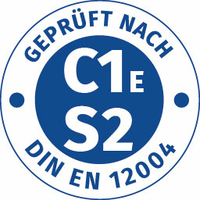 Product specifications
The stated values represent typical product characteristics and are not to be construed as binding product specifications.
Field of application
3 in 1: waterproofing, tile cement and joint mortar
Interior and exterior, floor areas
Waterproofing in a bond under tiles
Suitable for new and old buildings
Waterproofing balconies, loggias and pergolas
Waterproofing bathrooms and transition areas in swimming pools
Properties
Highly flexible
Water impermeable
Reactive drying
A light colour shade enables pigmentable joint colours
Joint width of 6 - 12 mm
For heated floor coverings
Preparation

Substrate requirements

The substrate must be level, clean, dust-free and stable, and free of oil, grease and release agents.

Roughen non-mineral substrates.

On fresh screeds, the residual moisture must not exceed 3%.

Preparations

Remove projecting seams and mortar remains.

Break off or slope corners and edges.

Prime absorbent mineral substrates with Kiesol MB.

Create a scratch coat using the product as a contact layer and in order to prevent blisters.

If necessary, use suitable products to level out any sloping (e.g. Betofix R4 EM).

Reinforce transitions to balcony edge profiles with Tape VF.

When using as waterproofing: use Tape VF to reinforce transition areas such as full-length window elements, inner corners and floor/wall joins.

Depending on weather conditions and positioning, green discolouration may occur on exterior joints. In order to prevent green growth on the surfaces filled with MB FL 2K, it is recommended to add Remmers Protect MKT 1. Add approx. 78 ml of Remmers Protect MKT 1 to one pouch of liquid component.

Interiors: calcium sulfate screeds must be sanded then vacuumed.

Residual moisture CA/CAF screed heated < 0.3 CM-%/ unheated <0.5 CM-%.

Prime gypsum-based substrates (Primer Hydro F).

Application

Waterproofing:

Apply MB FL 2K waterproofing to the substrate in two coats using suitable tools. The minimum dry layer thickness for both waterproofing layers must be at least 2 mm.

In connection and transition areas, the joint tapes and moulded parts of the Tape VF series are to be inserted into the still fresh first waterproofing layer and covered with the second waterproofing layer.

Laying the tiles:

Once the waterproofing layers have fully dried, use a notched trowel to apply MB FL 2K as a thin-bed mortar. It is recommended to use the buttering-floating method for exteriors. Place the tile onto the fresh mortar bed, applying light pressure. To avoid skin formation, only apply as much thin-bed mortar as can be covered with tiles in approx. 15 min.

Immediately remove fresh mortar residues from the top of the covering with water to avoid stronger adhesions.

Remove excess mortar from the joint network.

Grouting tiles:

Before filling the joints with MB FL 2K, clean the joints of any excess adhesive. The joints must be completely dry to avoid trapping moisture in the joint. Apply MB FL 2K joint mortar to the joints with a grouting iron. After the mortar has dried for a short time, slurry it diagonally with a washboard and water. Fresh adhesions on the tiling can be cleaned with the Scotch Brite sponge. After complete drying, stronger adhesions can be cleaned with Remmers Clean FL.

Application instructions

In the case of liquid-applied waterproofing materials, direct sunlight and/or wind exposure can cause accelerated skin formation and accompanying blistering.

Do not use in direct sunlight.

Do not use on untreated aluminium.

The scratch layer does not as a rule count as a waterproofing layer.

The maximum total wet coat thickness must not exceed 5 mm.

Moving the material (e.g. by stirring) in the mixing bucket can prevent premature skin formation.

Mortar that has already set cannot be made workable again by adding water or fresh mortar.

Protect the fresh waterproofing layer from rain, direct sunlight, frost and condensation water.

Once dry, protect from mechanical damage.

Add a further load-distributing layer if using the product for waterproofing under raised floor supports.

Ensure sufficient ventilation when applying the product in closed areas (wear respiratory protection if necessary).

Working tools / cleaning

Mixing apparatus, smoothing trowel, notched trowel, rubber scraper

Clean tools with water while the material is still fresh.

Any material that has already begun to dry can only be removed mechanically.

Dry, adhering material can be cleaned with Remmers Clean FL.

Storage / shelf life

If stored unopened in its original container in a cool, dry place and protected against frost, the product will keep for at least 9 months.
Usage

As waterproofing: Min. 1.3 kg/m²/mm dry layer thickness As tile cement: 8 mm tooth: approx. 2.9 kg/m² 10 mm tooth: approx. 3.5 kg/m² 12 mm tooth: approx. 4.4 kg/m² As joint filler: Approx. 0.2 kg/m² (6 mm joint width, tile 30/60 cm, 6 mm thick, total joint length 410 cm)
General information

Deviations from applicable regulations must be agreed separately.

The relevant test certificates must be observed when planning and carrying out work.

The applicable regulations and legal requirements must be observed.

The special agreements as well as test certificates can be downloaded online at www.remmers.com.

Always set up a trial area/trial areas first.

Disposal instructions

Larger quantities of leftover product should be disposed of in the original containers in accordance with the applicable regulations. Completely empty, clean containers should be recycled. Do not dispose of together with household waste. Do not allow to enter the sewage system. Do not empty into drains.

Safety / regulations

For further information on the safety aspects of transporting, storing and handling the product and on disposal and environmental matters, please see the current Safety Data Sheet.