Article No. 710001
HSL-30/m Premium Wood Protection Stain 3in1
Solvent-based, premium wood protection stain with increased efficacy for professional use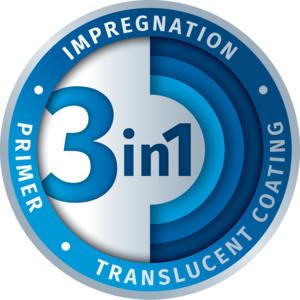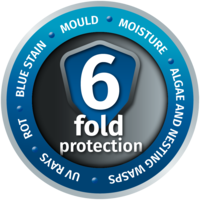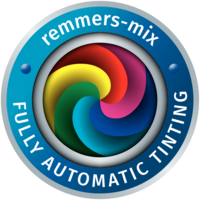 Safety instructions
Use biocides safely. Always read the label and product information before using!
Product specifications
Density (20°C)
Approx. 0.87 g/cm³
Odour
Solvent-like, odourless once dry
Viscosity
Approx. 50 s ISO 2431/3 mm
The stated values represent typical product characteristics and are not to be construed as binding product specifications.
Field of application
For use on exterior wood
Wood which is not in ground contact, in accordance with DIN EN 335-1, use classes 2 and 3
Wood building elements with no dimensional stability: e.g. fences, framework, carports, planking
Wood building elements with limited dimensional stability, e.g. folding shutters, matchboarding, summerhouses
Dimensionally stable wood building elements (when used as a primer only): e.g. windows and doors
Primer, intermediate and finishing coats
Properties
Low-build stain
3 in 1: impregnation, priming and stain
Preventive protection against: moisture, UV rays, rot, blue stain, mould, algae and nesting wasps
Good penetration
Breathable
Brilliant colours
Does not flake
Subsequent treatment without sanding
Preparation

Substrate requirements

The substrate must be clean, dry, free of dust, grease and loose substances, and prepared in the correct manner.

Dimensionally stable wood building elements: wood moisture content 11-15%

Wood building elements with limited or no dimensional stability: wood moisture content max. 18%

Preparations

Completely remove old coatings (e.g. paints or medium-build stains), bark, bast and dirt.

Remove loose and torn knots as well as resin that bleeds and clean with a suitable product (e.g. thinner & brush cleaner).

Smooth, planed wood surfaces should be sanded and dusted before the coating is applied to ensure better absorption.

Observe BFS Code of Practice No. 18 "Coatings on Wood and Wooden Working Materials in Outdoor Areas".

Application

Stir well.

Qualified specialist companies: brushing, dipping, flow-coating and spraying in closed systems only.

Apply in the direction of the grain.

Apply a second coat once the first has dried.

On oak an additional, clear base coat is recommended.

Use material with the same batch number on contiguous surfaces (mix material of different batches beforehand), otherwise slight differences in colour, gloss and texture may occur.

Seal opened containers well and use contents as soon as possible.

Application instructions

Check colour, adhesion and compatibility with the substrate by setting up a trial area.

Before coating technically modified woods and wood-based materials, apply the coating to a trial surface and conduct a suitability test on the desired area of use.

If the surface is overcoated with other products it is recommended to test the adhesion to the substrate.

White should be used in outdoor areas only for surfaces not directly exposed to weather such as roof eaves etc. or as base coat.

Due to the different covering properties of white and pastel varnish colours, the optical appearance may vary depending on the substrate. It must be checked in advance whether discolouration of the varnish may occur due to substances contained in the wood.

Due to the low UV protection of these colour shades, shorter maintenance intervals must be expected.

In order to take account of and clarify these issues, a trial surface must be prepared in order to ensure that the surface meets expectations.

Rainfall may cause water soluble substances to bleed from wood that is rich in such substances, e.g. oak, red cedar, afzelia, redwood, etc. This may lead to the discolouration of light-coloured masonry or render.

Seal end-grain wood with MSL-40 in a suitable colour (at least 2 coats).

Cut end-grain surfaces at the bottom to create a water-drip edge.

Each layer of medium-build stain results in a more intense colour and a glossier finish.

Drying

Overcoating: after approx. 12 hours

Practice values at +20 °C and 65% relative humidity.

Low temperatures, poor ventilation and high humidity delay drying.

Even once the coating is sufficiently dry for handling, less volatile solvents may cause surface to feel clammy to the touch over several days!

This property does not constitute a flaw!

The evaporation of these solvents can be accelerated by the ensuring the highest possible air exchange.

Thinning

Ready to use

Working tools / cleaning

Paintbrush with natural bristles, flat brush,
dipping tank, flow coating facility, spraying facility (enclosed)

Clean tools immediately after use with V 101 Thinner.

Ensure that any residue from cleaning is disposed of correctly.

Storage / shelf life

Store in well-sealed, original containers, out of the reach of children and in a dry, cool, well-ventilated room which is protected from direct sunlight and frost. No smoking is permitted in storage areas.
Usage

Preventive protection against blue stain and soft rot at 205-250 ml/m² applied in at least two coats

Planed or very thick woods are less absorbent and may require a third coat
General information

On planed larch and softwoods with a high resin content, the coating may have reduced adhesion and resistance to weathering. This is especially the case on horizontal year rings, knots and areas of winter growth that are high in resin. Maintenance and renovation must be carried out more frequently on these surfaces.
The only remedy for this is pre-weathering or very coarse sanding (P80).
If these wood types are rough-sawn, considerably longer maintenance and renovation intervals are to be expected.

According to the current state of the art (this includes DIN 68800-1 and -3 in Germany), wood preservation measures must also be planned for non-load-bearing wooden elements in good time and with due care, with the agreement of all parties involved in the construction (architect, developer, builder) and in compliance with the legal requirements and the conditions on site. The use of biocidal ("chemical") wood preservatives should therefore always be indicated in suitable fashion prior to sale, or must be agreed in advance with the client in writing. Failure to comply with this requirement may result in country-specific or contract-specific conflicts with legal requirements, standards or certification systems. The Remmers Technical Service would be happy to discuss the matter and provide you with a template agreement for the use of a biocidal ("chemical") wood preservative on the wooden elements being used.

Disposal instructions

Larger quantities of leftover product should be disposed of in the original containers in accordance with the applicable regulations. Completely empty, clean containers should be recycled. Do not dispose of together with household waste. Do not allow to enter the sewage system. Do not empty into drains.

European waste code 03 02 02* organochlorinated wood preservatives

Safety / regulations

For further information on the safety aspects of transporting, storing and handling the product and on disposal and environmental matters, please see the current Safety Data Sheet.